Tri-Lift is your local Authorized Genie dealer. From parts, service, rentals -- to sales of new or used equipment, we have to right lift systems to get the job done safely and efficiently.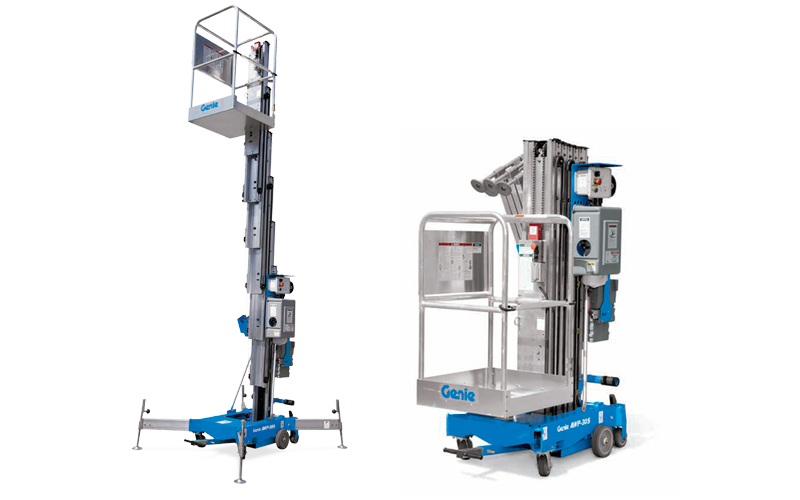 Aerial Work Platforms
Genie® aerial work platforms are an ideal solutions for a wide range of applications. They are light weight and are able to be set up by a single person. Their lightweight and limited size allows users access to areas where more tradition and heavy-duty aerial lifts can't go. Perfect for light construction tasks such as use in facilities like schools, office building, churches and small warehouses. Genie aerial work platforms can also play in the big leagues on large construction sites and high rise building perform light duty interior lifting solutions.
Articulating Boom Lifts
Genie articulating boom models give operators greater access to work areas over obstacles and barriers. Also known as "up-and-over" boom lifts, they permit users to reach up and over obstacles that other types of aerial lifts will not allow. Granting operators greater vertical as well as horizontal reach capability, while also being compact and able to be operated in confined areas. Genie articulating booms models are very effective lifting solutions for a variety of tasks whether indoors or outdoors in rough terrain environments. With two modes of power an efficient electric powered models which will allow for full day emission free run-times on a single charge, and diesel driven generator models that give users a full week of power with just a single tank. With many models to choose from there is a right solutions of Genie articulating boom models for virtually any need.
Genie Material Lifts
Genie® material lifts date back to the their original Genie® Hoist in 1966. Low cost and light weight --- Genie® material lifts are specifically designed to be durably, portable and compact to increase worksite productivity. Making them and ideal lifting solutions for both indoor and outdoor working environments. Available in a variety of models, options and accessories, makes Genie® material lifts extremely versatile, capable of meeting a wide array of worksite requirements.
Scissor Lifts
Genie® scissor lifts are designed specifically to be exceptionally mobile. Allowing operators the ability to easily maneuver within tight confines spaces, Genie scissor lifts are available in a variety on indoor and outdoor models, lift capacities, options and accessories.
Telehandlers
Genie telehandlers are known for outstanding design, durability and performance. Providing operators with comprehensive utility that is capable of answering nearly all work site lifting needs. Genie makes available six different models that are power packed up to the rafters for operations requiring performance and productivity.
Vertical Mast Lifts
Genie vertical mast lifts are small scaled powered lifts capable of fitting on to an elevator and through doorways. Ideal for indoor applications where working and maneuvering at height safely is required, however environment restraints such as doorways necessitate a smaller sized lift.